Call Ally: (250) 351-6169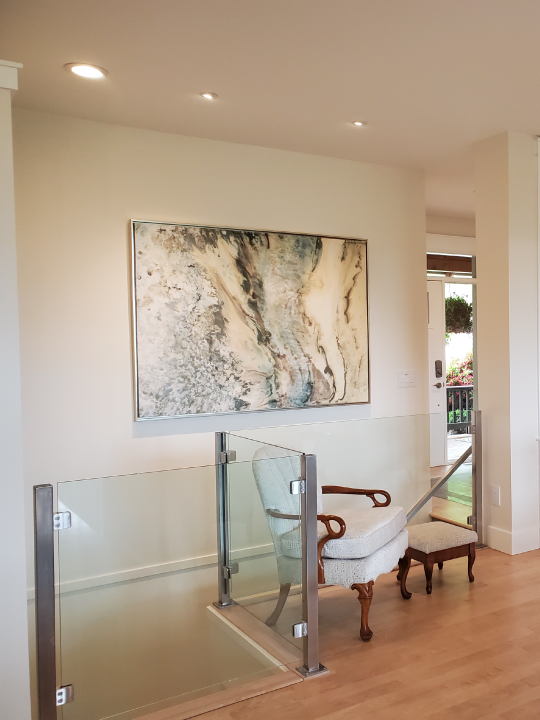 Residential Painting
Our homes are the place where we can truly be ourselves.  Having the right design and colours in our space have a huge impact on how we feel, our ability to relax, to laugh, on how we interact with each other and the memories we create.  Our goal is to help you feel your absolute best!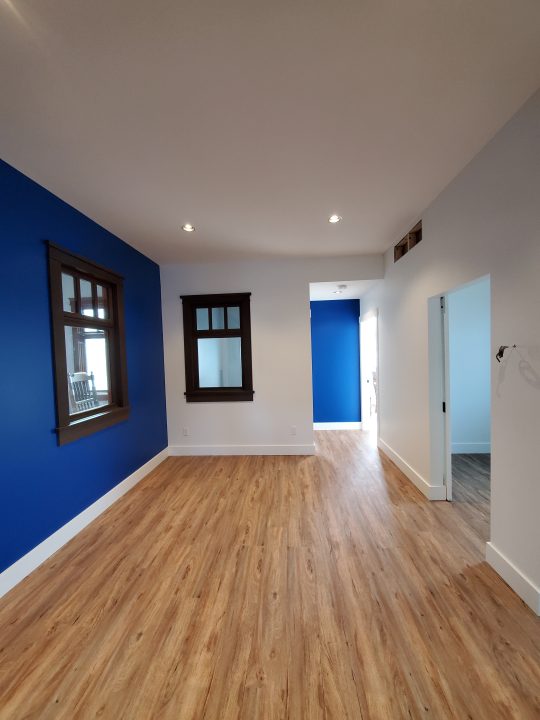 Commercial Painting
Impress your clients with a professional and stylish space.  Our businesses are extensions of ourselves and we always put our best foot forward.  Whether you have new office space or retail location or you are just looking for a face lift, Clean Color can help your business stand out!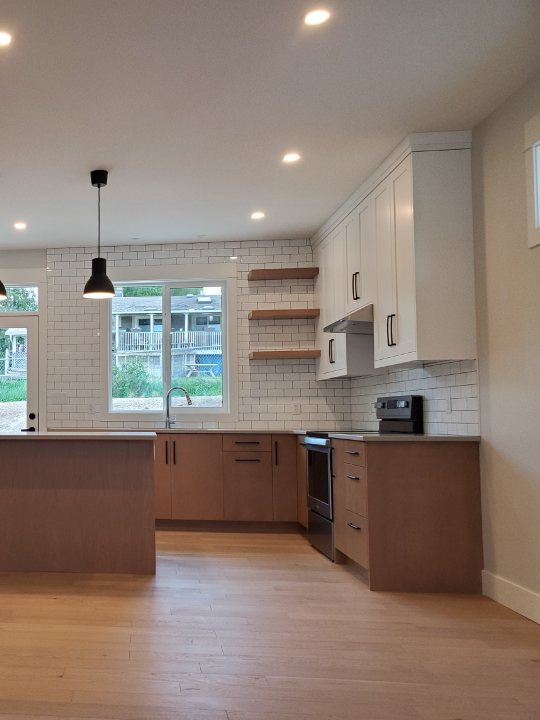 New Construction & Renovations
If you are building your dream home or bringing an old house new life, construction & renovation projects are very exciting!  We love being a part of building your dream!
Working as a team with the other trades and collaborating with designers always yields incredible results.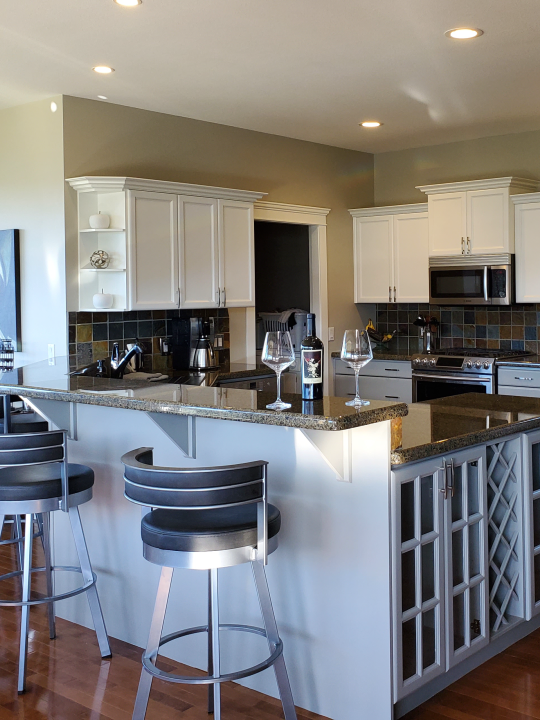 Cabinet Refinishing
Changing the colour of your cabinets can change the look and feel of your whole space!  If you love your current layout but are still looking for a dramatic change, having your cabinets refinished could be exactly what you need.  Call Ally today to book your consultation! 
What to expect and how to prepare for when your home is to be painted
Moving Furniture
Move as much of the small furniture out of the space that is to be painted as you can.  This includes coffee tables, side tables, lamps, personal items, knick knacks, etc.
Large furniture can be moved into the middle of the room.  We require a space of about 4 feet between the wall and the furniture that is stored in the centre of the room – this is just enough space for us to manoeuvre a ladder comfortably without causing any damage to your belongings.
Wall Hangings & Pictures
Please carefully remove all decorative wall hangings, pictures and ornaments from all walls that are to be painted.  Our painters will take out any nails, pins, screws or hooks as part of our preparation procedure.  
Blinds, Drapes & Soft Furnishings
Blinds and drapes should be removed from walls & windows and stored in a safe place while the painting is taking place.  Please remove any loose rugs, throw blankets, pillows etc. and store in a safe place.  
Cleaning
It is recommended that the area that is to be painted is dusted, swept and vacuumed prior to the painter's arrival. 
When you are having your bathroom painted, we ask that you please ensure the toilet and floor surrounding the toilet is freshly cleaned.  
Furry Family Members
Our crew is full of animal lovers!  Please feel free to introduce us to your furry friends! 
What kind of prep work is included?
Before we even open the paint cans, we spend as much time as needed prepping.  This includes but is not limited to:
removing all faceplates and light switch covers
removing all nails, screws & hooks
covering all furniture with plastic coverings
covering floors with tarps/drop cloths 
sanding all walls 
filling all holes, cracks & imperfections 
repairing any larger areas that need extra attention
repairing & sanding any trim that is to be painted 
more sanding!!
Our gallerY
Featured Work
Allyson was amazing to work with. She was quick to respond to our initial query and provided an estimate with detailed description of the work. She was flexible and able to work the days we needed a complete interior paint between renters. The site was kept immaculate, she didn't waste time or paint and the job turned out beautifully. She is professional, hardworking and sweated through a heat wave while remaining cheerful and without a single complaint. We would definitely use this company again and highly recommend Allyson and her team!
Excellent, professional services. Completed the project in a timely manner. Would not hesitate to recommend their services.
Allyson and her team were absolutely amazing! They work so quickly, but impeccably. I could not find a single flaw in their work. They were a pleasure to have around the house while they were painting it, and did a phenomenal job. We will be using them for any painting that we need done in the future!
Allyson is amazing at her profession. From start to finish she was very professional, easy to get along and very personable. She turned my home from it's livable to it's FANTASTIC! I have never seen anyone with such a steady hand when it comes to painting as she free handed very tight areas with no taping. This tells me she knows what she's doing. I would highly recommend her to anyone. Allyson will go out of her way to make the experience as painless as possible. When we couldn't find a contractor to install the new flooring she took it upon herself to find someone for me. When we exhausted options she asked her partner if he would be interested and Curtis came in and did a fabulous job! He also installed a window in a metal door as well as a new over the stove microwave! These two make a great team and I highly recommend them.
Our house had a lot of jobs that had been started but not necessarily finished (door painting, caulking, some drywall repair, etc.) Allyson and her team came in and absolutely turned our home into the glory it deserved. From the day we met with her to the finish they were always on time and worked at an amazing pace! She recommended paint colors to go with and executed the job 110%. We couldn't be happier with the end result! Amazing job! Highly recommend!